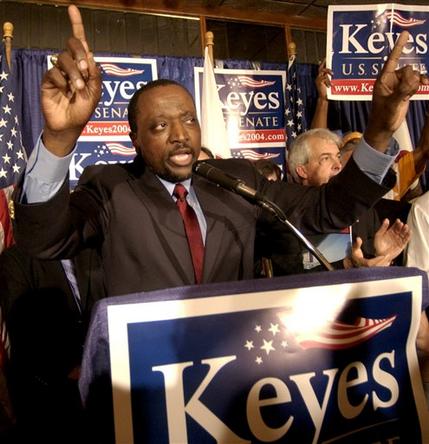 To: CONFIDENTIAL/ Internal memo
From: Ill. Republican State Central Committee
Date: August 8, 2004
RE: A Credit To This Race
Alan Keyes is just the boy to take on that Barack Obama. The liberals say we had to go all the way to Maryland. But what the liberals conveniently leave out is, … a) Maryland isn't as far as other places like Alaska b) Maryland and Illinois are sister states in that both have lakes, corn, and angry GOP suburban support. My point here being that we finally found our George Jefferson to answer back to their Cliff Huxtable. Bring on the Negroes!
As a Democratic senate candidate, Obama is thoughtful, attractive, and colored. Scary! High fives for finding just the loud radio host of equal color to take him on. Yes, we'll need to comp Alan's U-Haul. And to be honest, as well-spoken as he is, I've never understood a word Alan's ever said. But on the bright side, he has enough family values not to invite his wife out for sex.
Alan Keys is our Great Black Hope. James J. Jeffries with a twist. A two-time presidential candidate coming out of retirement to fight that liberal Jack Johnson who, let's face it, threatens to become all too much of a credit to this race.
More than just a senate seat, Illinois is swinging toward becoming a swing state, putting the plantation up for grabs so to speak. So the question for us is serious. Is this the Heat of our Night? Can Alan save our Mr. Endicott from Obama's Virgil Tibbs?
Except for maybe those Cubans we've never exactly hit it big with the darker types, if you know what I mean. But with Alan in the fight, what we've got here is the first senate race in history between two black fellas. So here's my pitch for Alan's campaign slogan: "Keyes - A Black Man with A Big Message: Democrats take those people for granted."
OK, so say we don't win. a) We still got the Cubs for that. b) We still prove that some of our best friends are colored.
---