To: Screed Readers
From: Copy Boy In-Chief
Date: 20 January, 2005
RE: Presidential Pointers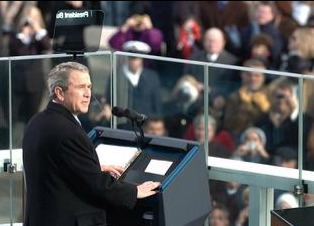 With George Bush sworn in for his second administration, ScreedMe looks to him as an example of how to re-order its own house in 2005.
In that vein, ScreedMe can now confirm it has not found story ideas stolen, copied, or otherwise lifted by The Onion.

In return for our promise to introduce him to a variety of internet-based girls, chief stolen story inspector Charles Duelfer has agreed to deliver his final report on the search for stolen stories next month.
In his preliminary report last September. Duelfer concluded that The Onion had not stolen ScreedMe story ideas nor had it demonstrated the capability of doing so. We don't expect his final report to fundamentally alter those earlier findings.
ScreedMe wants to continue to help readers struggle to emerge from The Onion's monolith. We remind readers that it is hard work. That it will require continued sacrifice ... But that freedom is on the march.
The Onion hates our freedom. But by advancing liberty we are making satire safer for all readers around the world. And again let's remember, our friends and allies had the same intelligence we had about what we now know The Onion did not do.
Still, ScreedMe has not been without extremism in defense of liberty. To address the point we took a page from mainstream media and appointed a special panel to investigate.
In return for our promise to never include them on the ScreedMe e-mail list, former U.S. Attorney General Dick Thornburgh and retired Associated Press President and CEO Louis Boccardi agreed to investigate.
Based on their findings, ScreedMe will fire four senior editors over their report about stolen story ideas The Onion did not in fact steal. (NB: Those editors are now free to find paying jobs)
Thornburgh and Boccardi concluded that those involved in reporting what The Onion had not stolen had rushed ScreedMe to print without properly examining documents from a disgruntled former Onion writer angry about the "Manhattan mafia" he said had come to dominate The Onion masthead.
Thornburgh and Boccardi called the ScreedMe rush the result of "myopic zeal," but stressed that zeal was not the result of political bias. Further, they agreed I should stay on as Copy Boy In-Chief, pointing out that because I was stretched so thin by other high-priority assignments I served as little more than cutter and paster of accusations against The Onion.
Among those high-priority assignments I am now pleased to announce, the 2005 "Bloggies" accepting ScreedMe's award as a Internet beacon of liberty and the credibility liberty brings.